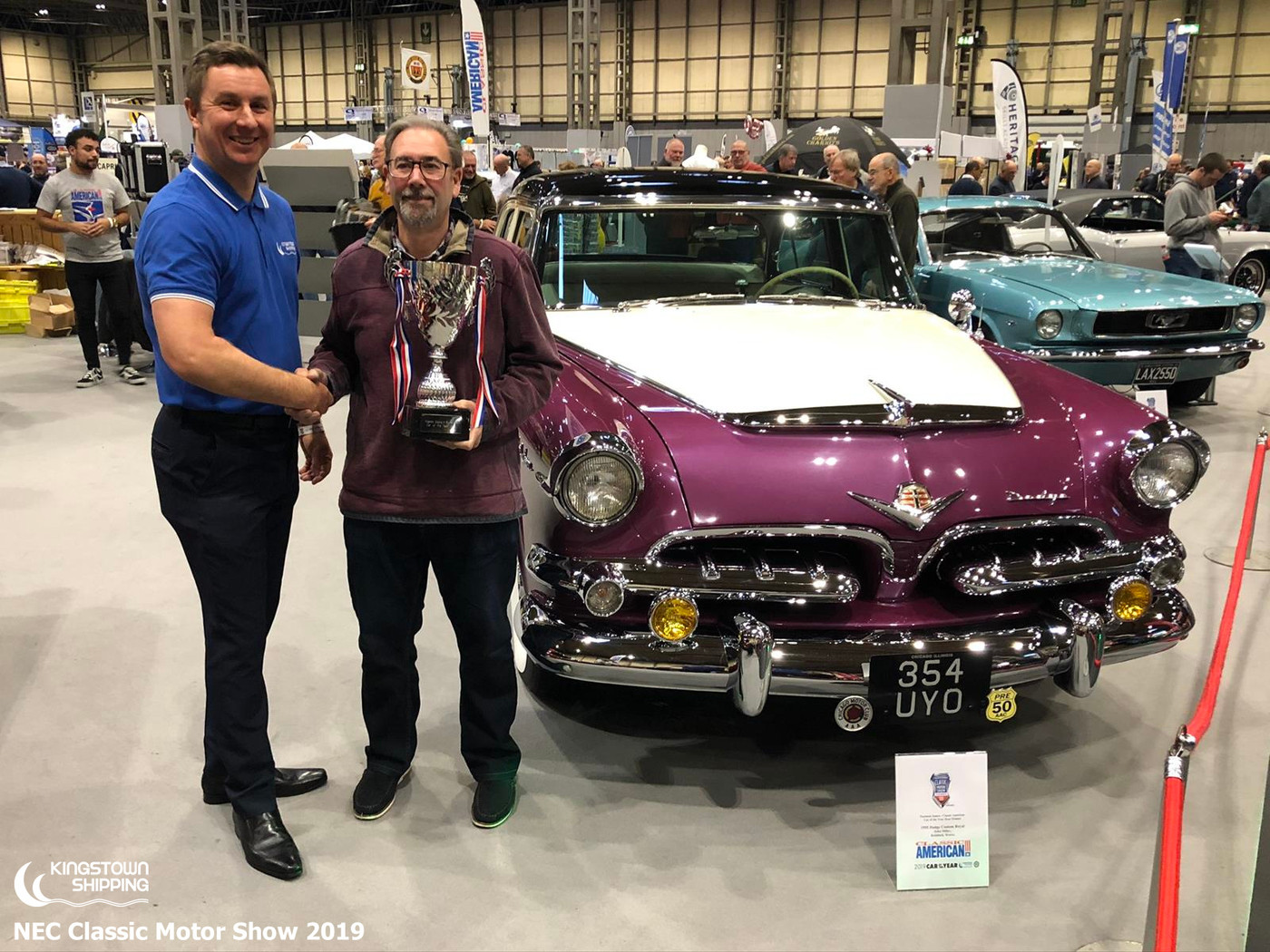 We are pleased to announce the winner!!!
On Sunday 10th November at the NEC Classic Motor Show it was our pleasure to announce the 2019 Classic American Magazine and Kingstown Shipping Car of the Year winner. John Miller and his 1955 Dodge Custom Royal was the unanimous winner and was presented by Mark Cowley with his trophy and winners cheque.
With only 10,000 miles on the clock this Dodge is every bit the survivor car with immaculate tri-colour paintwork and pristine interior. The vehicle won the Rally of the Giants heat at Blenheim Palace in July 2019. It was a pleasure to catch up with John again after handling the Customs Clearance formalities at Southampton in November 2015 for this very car. Congratulations John!!!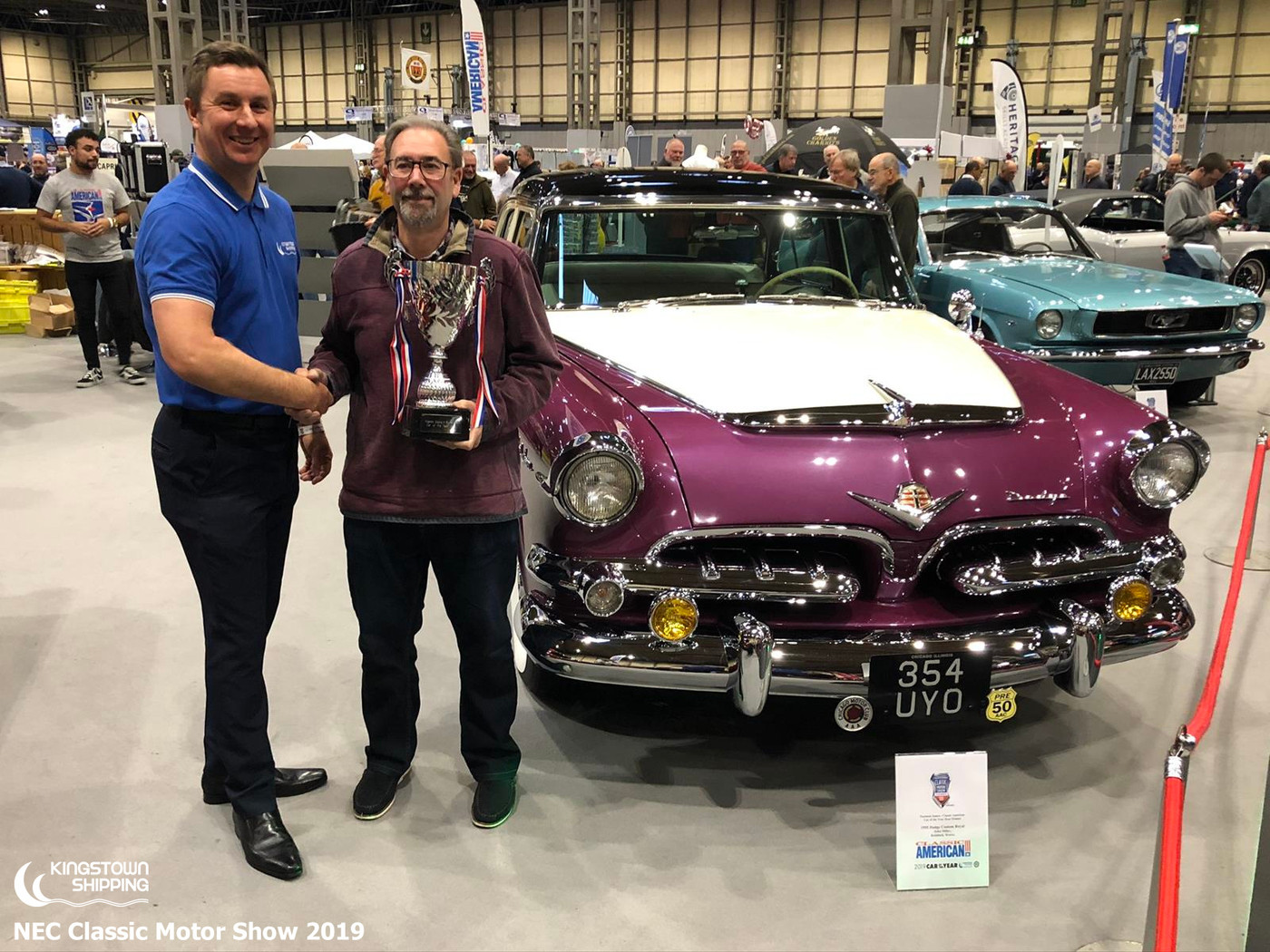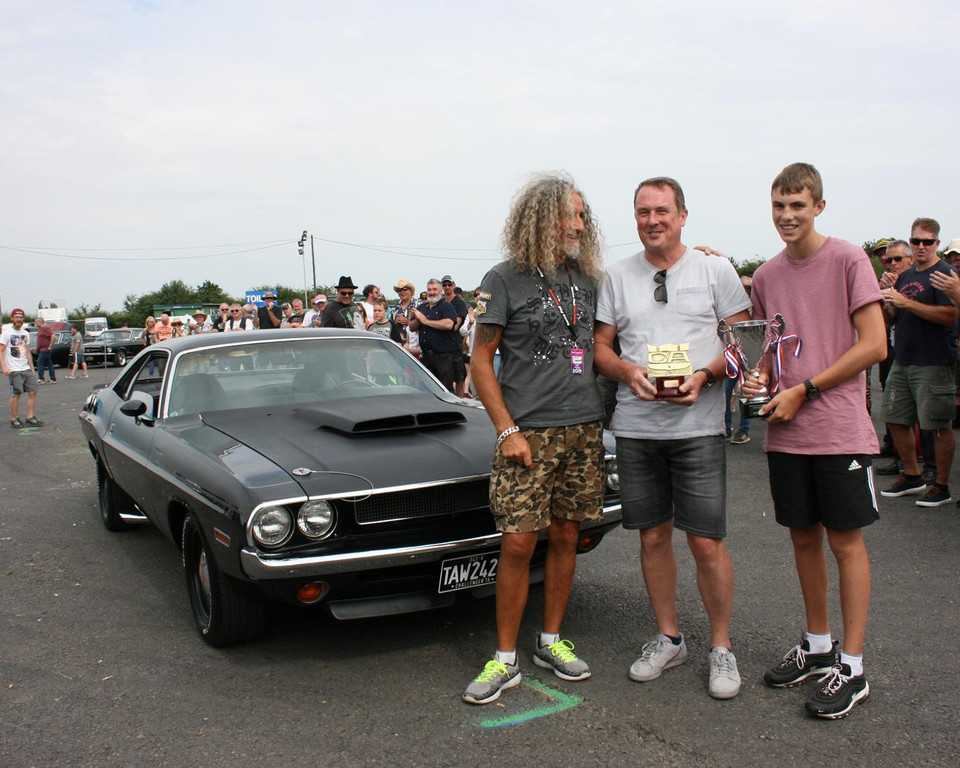 Heat 7 @ Mopar EuroNats, Santa Pod Raceway - 2nd-4th August 2019
The winner of the final heat, number seven, of this year's Kingstown Shipping and RH Insurance Car of the Year competition is this simply superb 1970 Challenger T/A belonging to Gavin Shaw. Featuring a 340 motor with a six-pack and four-speed manual transmission, it's believed to be 1 of 4 black four-speed T/As out of a total of 26 black T/As. Well done to Gavin and son Ellis for turning out another stunning Mopar, which will surely turn a lot of heads on the Classic American stand at this year's Classic Motor Show in November.
And if you think Gavin's name sounds familiar, that's because he's had cars in Car of the Year previously: in 2003 with a Dodge Demon, in 2012 with a gorgeous blue 1968 Chevrolet Camaro Z/28, which actually went on to win Car of the Year and most recently in 2016 with an equally stunning bronze 1970 'Cuda 440 six pack which won the first heat of the Footman James Car of the Year competition at Wheels Day that year.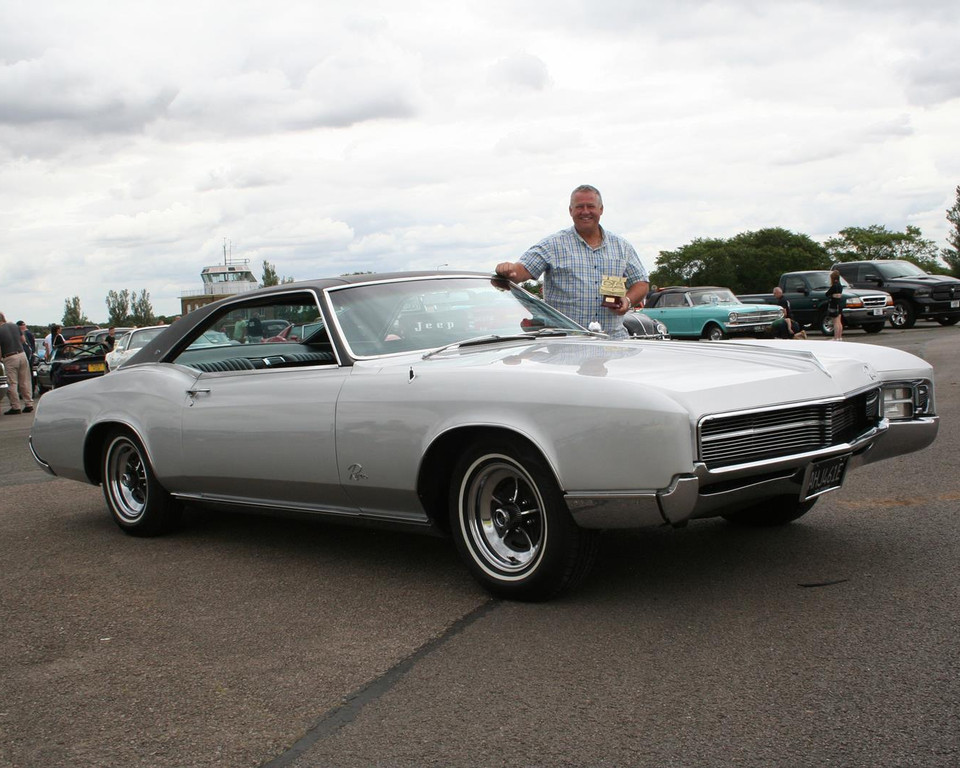 Heat 6 @ Damn Yankees, North Weald - 21st July 2019
The winner of heat 6 at the Damn Yankees Summer Slam, held at North Weald was this stunning 1967 Buick Riviera belonging to Nick Barnes from Enfield, Essex. This California car has had a respray in the original Buick colour of Platinum Mist, but retains a stunning original and unmarked black vinyl interior with immaculate real wood trim. Power comes from Buick's 360bhp 430 cu in V8 and being Buick's top line personal luxury offering, it features all the goodies one would expect including air con, power steering and power brakes, Super Turbine auto transmission and of course, that front-wheel drive which was so revolutionary at the time and shared with sibling GM personal luxury coupes, the Eldorado and Toronado.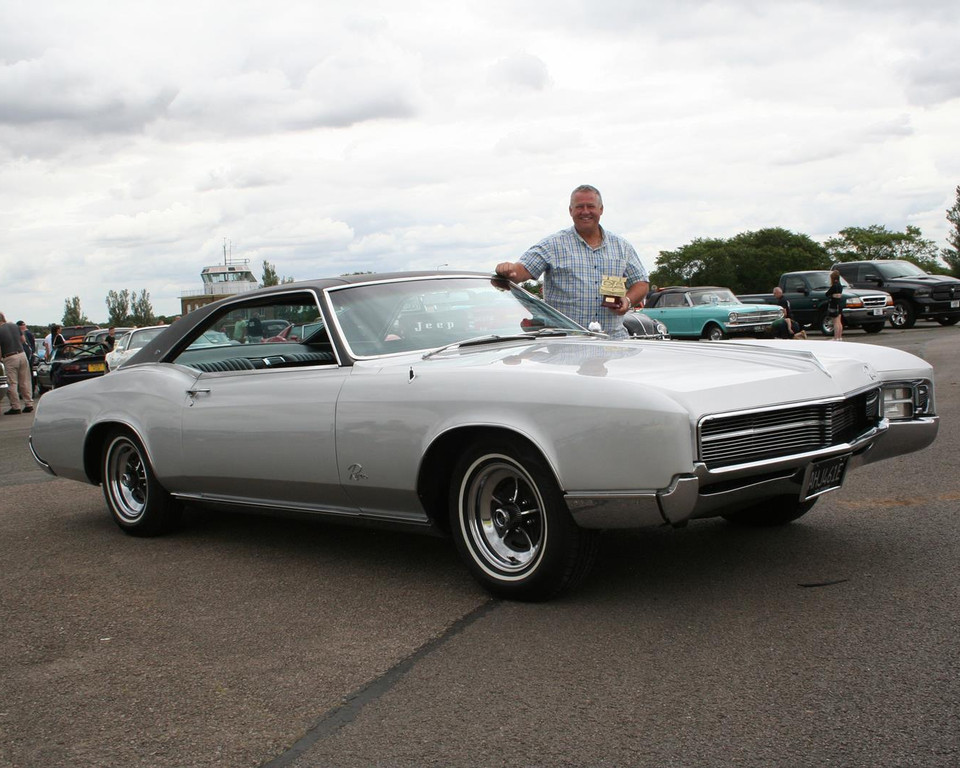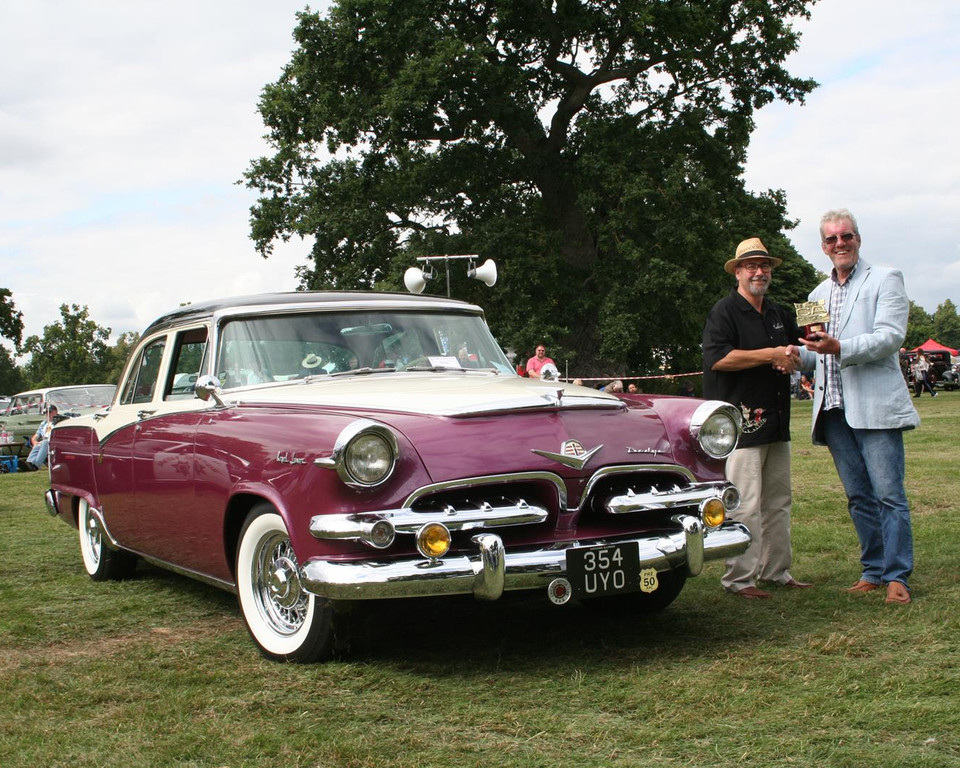 Heat 5 @ Rally of the Giants, Blenheim Palace - 14th July 2019
Take a bow heat winner number 5 of the Kingstown Shipping & RH Insurance Car of the Year, which was chosen at the Pre-'50 American Auto Club's Rally of the Giants show at Blenheim Palace. This stunning 1955 Dodge Custom Royal Lancer belongs to John Miller, who is editor of the Pre-'50 club's magazine and a real enthusiast of early 'forward look' Mopars. With only 10 thousand miles on the clock, this Dodge is every bit the survivor car, with immaculate tri-colour paintwork and immaculate interior. Fitted with a Super Red Ram 270cu in V8 motor and two-speed Torqueflite auto 'box, it's no slouch either. Be sure to come and check it out on the Classic American stand at the NEC Classic Motor Show this November in only a few month's time!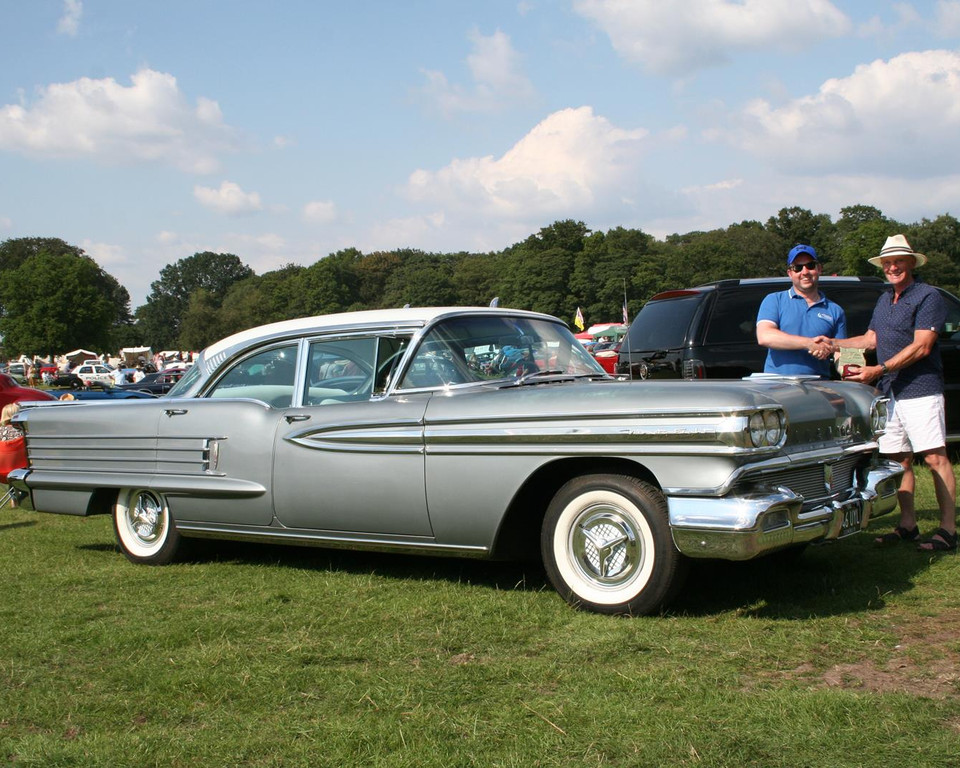 Heat 4 @ Stars & Stripes, Tatton Park - 6th-7th July 2019
The heat winner of round four of the Kingstown Shipping & RH Insurance Car of the Year competition at the Classic American Stars and Stripes weekend at Tatton Park was this stunningly gorgeous 1958 Oldsmobile 98 four-door hardtop, belonging to Steve Hughes from Conwy, Wales. What makes this car unique is its totally original condition: It still wears its original paint which has worn through to primer in a few spots and its immaculate interior has survived down to the use of plastic covers throughout the car's life. One rare option is carries is air conditioning, but it's the car's stunning original condition that really is what makes it special… like they say: "It's only original once!".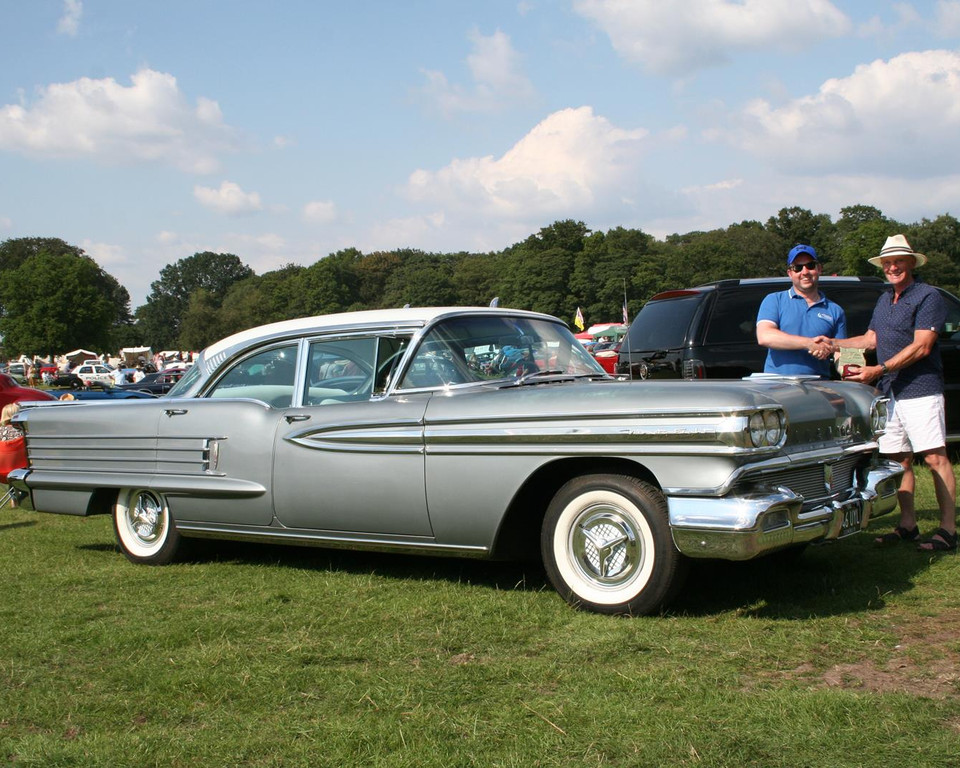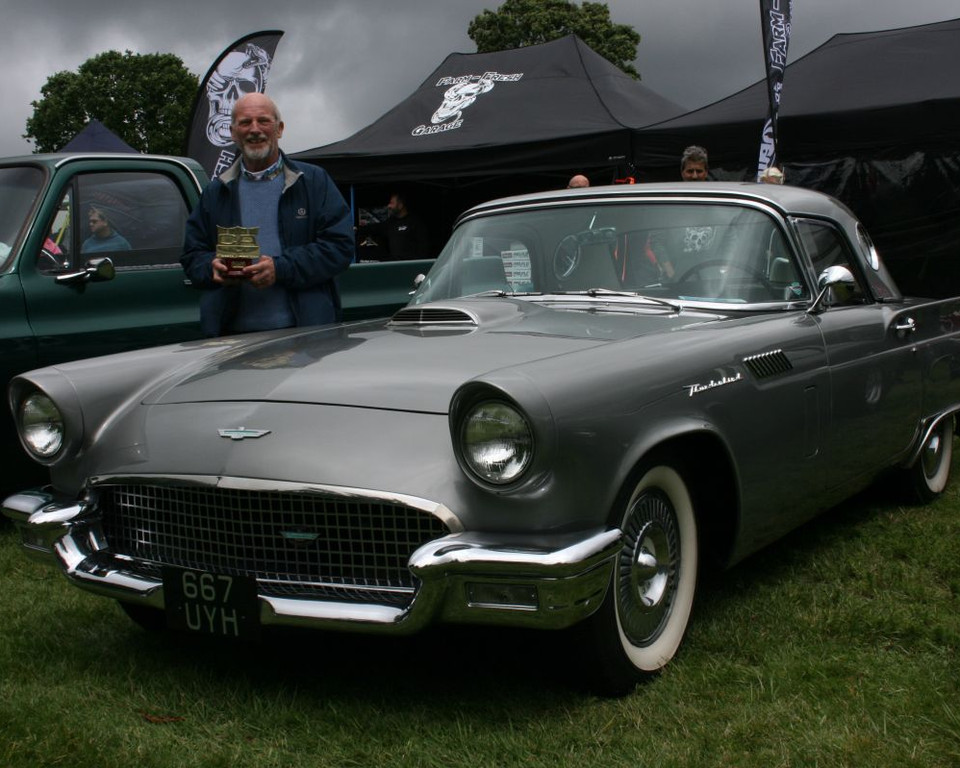 Heat 3 @ Hot Rod & Custom Drive-in Day, Beaulieu - 16 June 2019
The first generation Thunderbirds are much loved around the world, and this particular one bears a very special place in the affections of its owner, as it is the same as a Dinky toy version he had when he was a little boy. Dreams do come true if you make them and that's certainly been the case for Brian Forsdike who after a life time was able to track down this superb example of his 'dream' car.
This stunning Gunmetal Grey T-bird features a 312 cu in V8 engine mated to a two-speed Ford-O-Matic auto transmission and boasts power-brakes and –steering, as well as the oh so attractive hardtop with porthole side windows.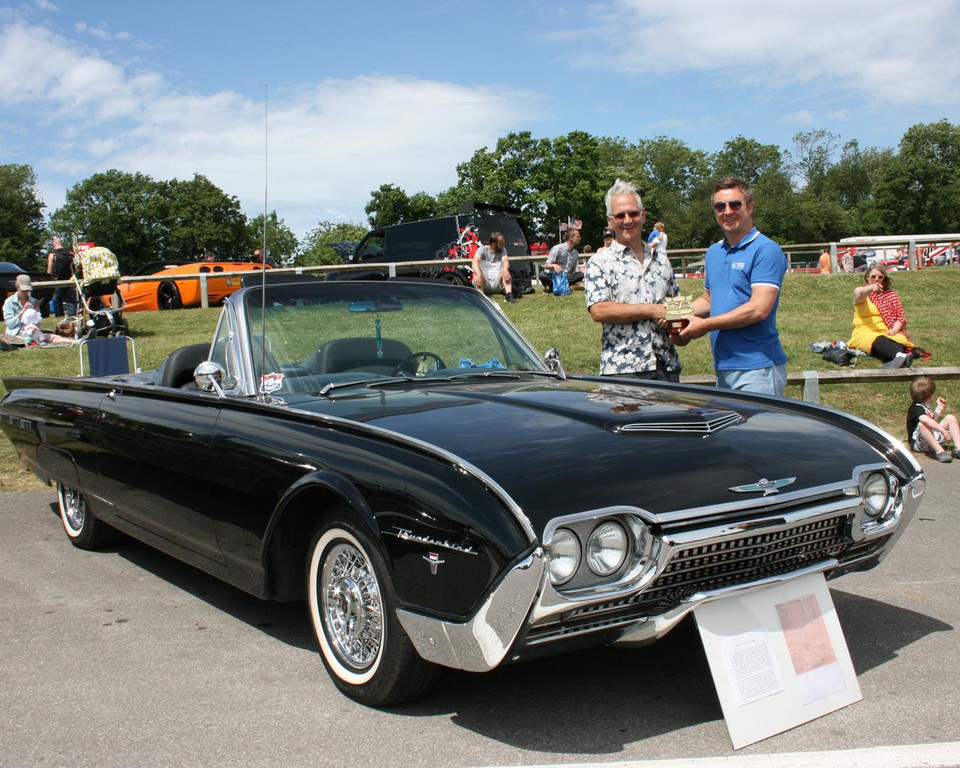 Heat 2 @ American Speedfest, Brands Hatch - 1st/2nd June 2019
Heat Two of this year's Kingstown Shipping & RH Insurance Car of the Year competition was won by a car that may look familiar to Classic American readers: this beautiful black 1962 Ford Thunderbird was featured in the May 2018 (no. 325) issue of Classic American. Owner Kevin Moss bought the car in March 2017 and has done a lot of work to it since, including an interior retrim and getting the electric top (including all the original solenoids,) to work reliably.
The car was originally ordered new by an American serviceman in Germany (hence the speedometer in Kilometres, rather than miles) Power comes from Ford's venerable 300bhp big block FE 390 motor, which is hooked up to a three-speed Cruise-O-Matic automatic transmission.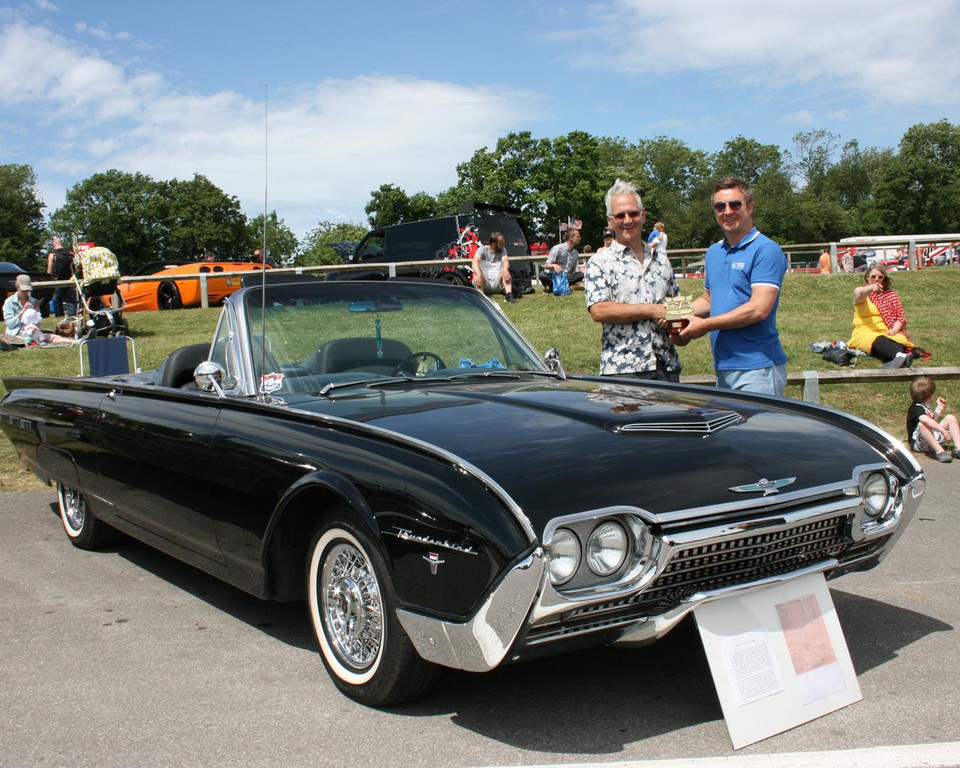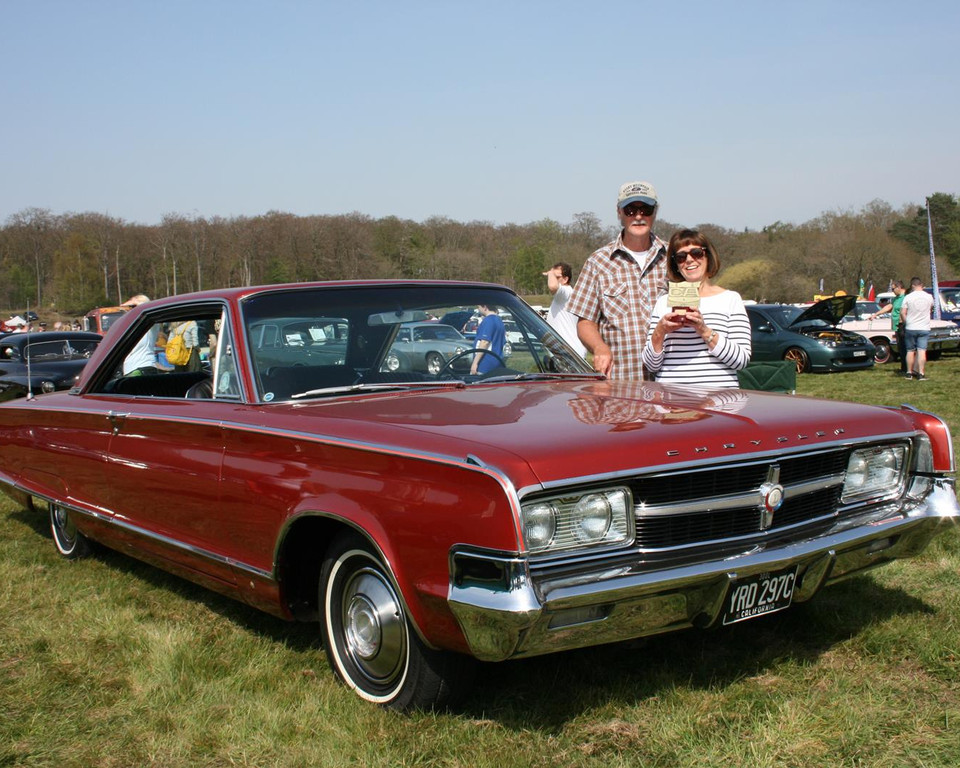 Heat 1 @ Wheels Day, Aldershot - 19 April 2019
Stunning heatwave weather meant that this year's Surrey Street Rodders' Wheels Day show was inundated with display cars and members of the public. That meant a packed show field and quite a challenge to pick out a car for the inaugural heat of this year's Kingstown Shipping & RH Insurance Car of the Year competition.
Fortunately Geoff and Jan Mitchell had brought along their stunning 1965 Chrysler 300L, one of Chrysler's legendary 'letter cars' which was awarded the prize. This California black plate car boasts power windows, leather interior and 360bhp 413 cu in Wedge V8 engine, making it the perfect epitome of a 'gentleman's muscle car'