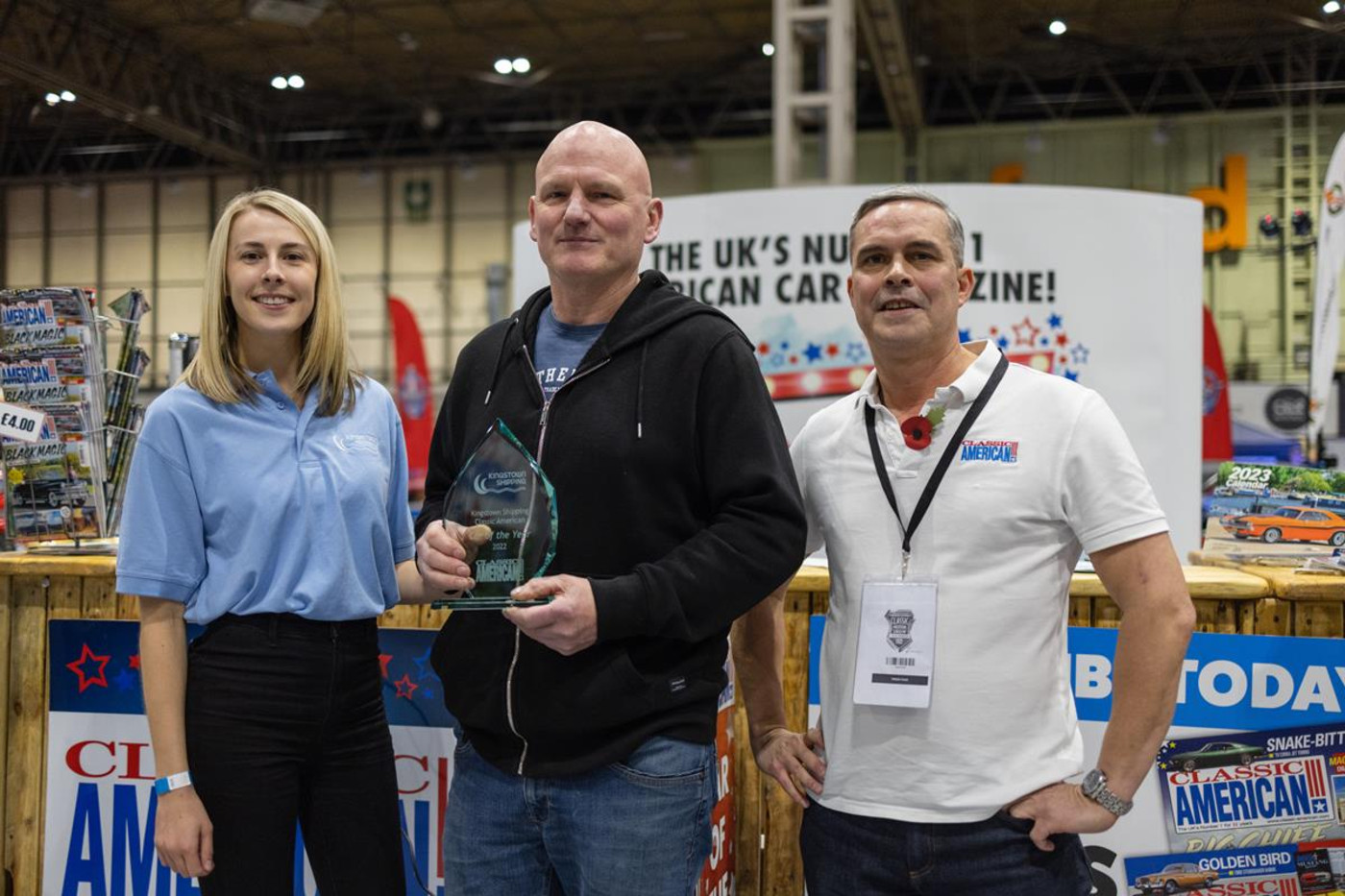 We are pleased to announce the winner!!!
A huge congratulations to Steve Sullivan and his 1958 Cadillac Sedan de Ville winning the 2022 Classic American Magazine Car of the Year award sponsored by Kingstown Shipping. Steve was presented with his trophy and winners cheque by Hollie Cowley of Kingstown Shipping and Ben Klemenzson, editor of Classic American Magazine.
This vehicle won the third heat of the competition at Stars and Stripes, Tatton Park. It has also recently won many other accolades including the Fins & Chrome class at the London Concours in June 2022.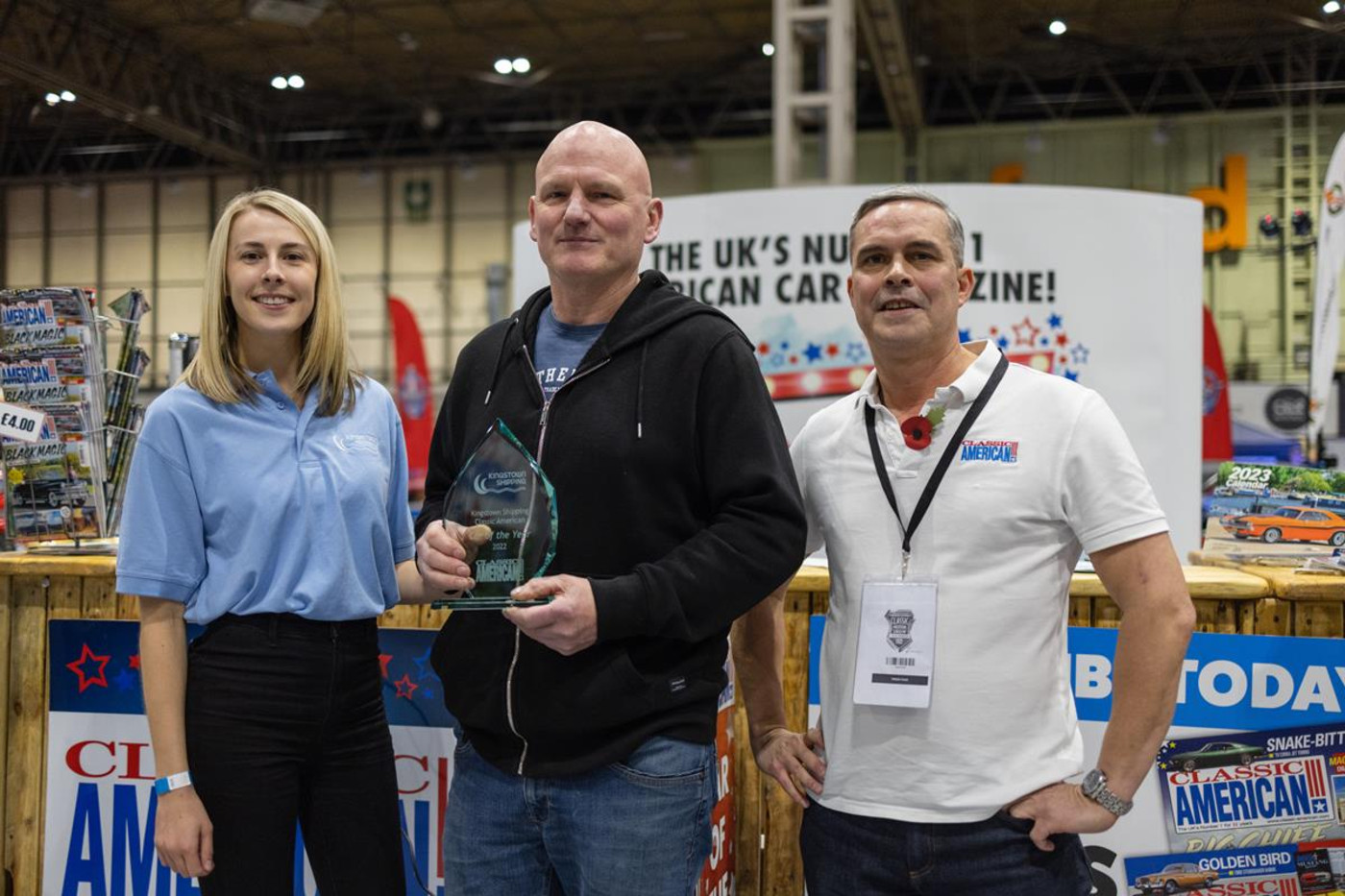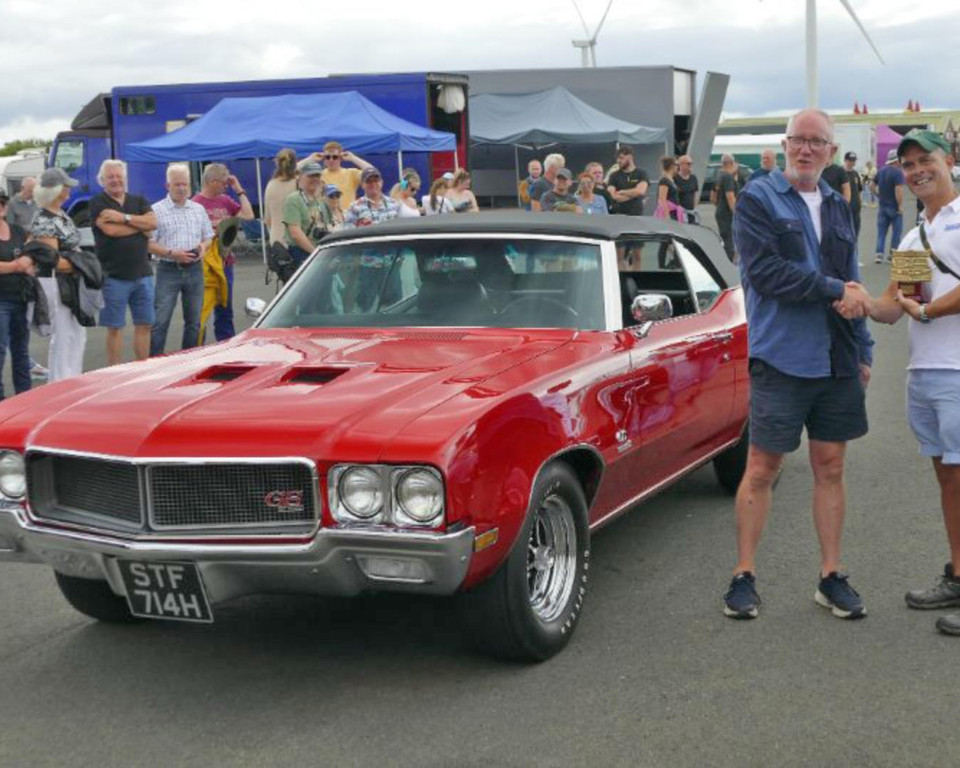 Heat 6 @ Mopar EuroNats, Santa Pod Raceway - 29-31 July - 1970 Buick GS Stage 1 - Mike Smith
What was it Roy Castle used to sing? "Dedication is what you need…!" And there's no doubting Mike Smith's dedication to this Buick which he's owned for 37 years. He bought it as a basket case in 1984 and restored himself initially in the Eighties, then drove and raced it for a couple of decades. Ultimately, he took it off the road and sent it to Canada for a 10-year nut and bolt restoration, where it had the doors, boot, rear and front wings replaced, as well as the glass and convertible frame. The GS was Buick's version of the GTO, basically a high-performance, sporty version of the Buick Skylark. It features a 455cu in V8 rated at 350bhp and 510lb. ft. of Torque – very useful when racing at the drag strip (where it got 13.4 up the ¼ mile!) Equipment includes power-windows, -seats and -tilt steering.
Heat 5 @ Damn Yankees, North Weald - 17 July - 1972 Mercury Cougar XR-7 - Mike Churchill
This exceptional 1973 Mercury Cougar XR-7 also might look a little familiar to some folks. Recognise it? Yes, it's the very same Cougar that won Car of the Year back in 2005! Laboriously restored 17 years ago, it's unusual in that cars of this era have a lot more plastic used in their construction, which in itself is a challenge, yet this Mercury looks mint, as if it's just rolled out of the factory. Current owner Mike Churchill is no stranger to car of the year, having taken part in the 2017 competition with his 1973 Lincoln Continental Mark IV.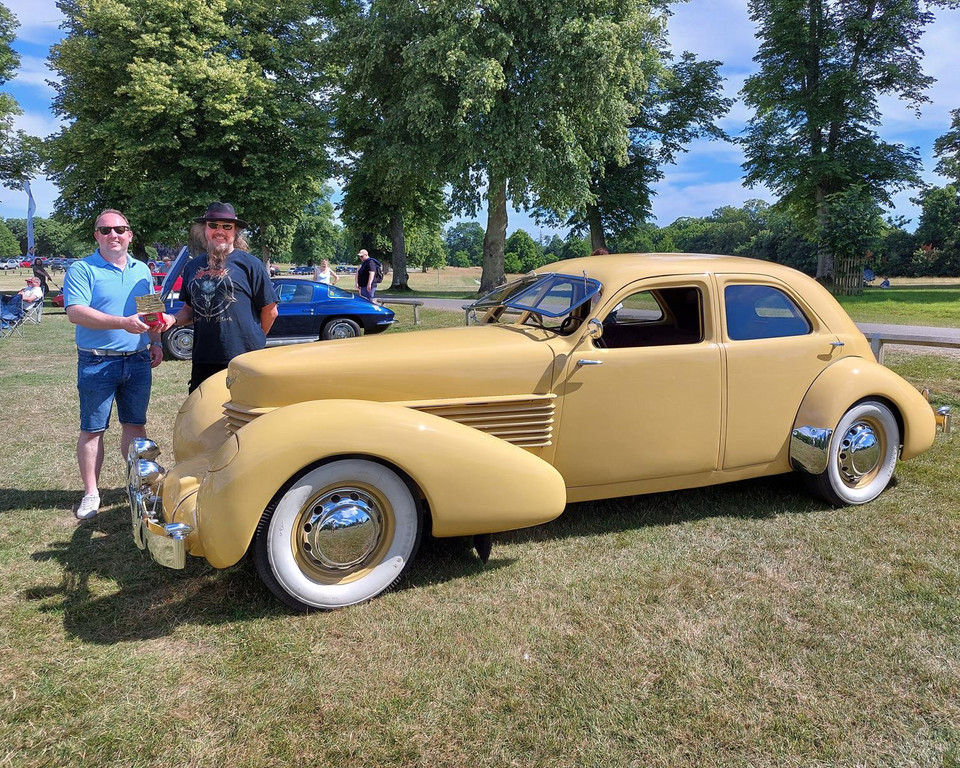 Heat 4 @ Rally of the Giants, Blenheim Palace - 10th July - 1936 Cord Westchester Sedan - Trevor Cowell
Classic American we were immediately attracted to the stunning 1936 Cord Westchester Sedan belonging to Trevor Cowell, who is a garage owner and American car enthusiast. Originally hailing from Maryland, the car has been restored in 2010 and ended up in Sweden, coming to the UK in about 2016. Although it was running when he acquired it, he's gone through it and rebuilt the brakes, added subtle amber turn signals and had the interior retrimmed. Not only that, but Trevor also drove the car to and from Blenheim Palace from his home down south. Despite being a Thirties car, it features many incredibly advanced features for a car of this era, including front-wheel drive, independent front suspension and hide-away headlights to mention just a few. Just wow!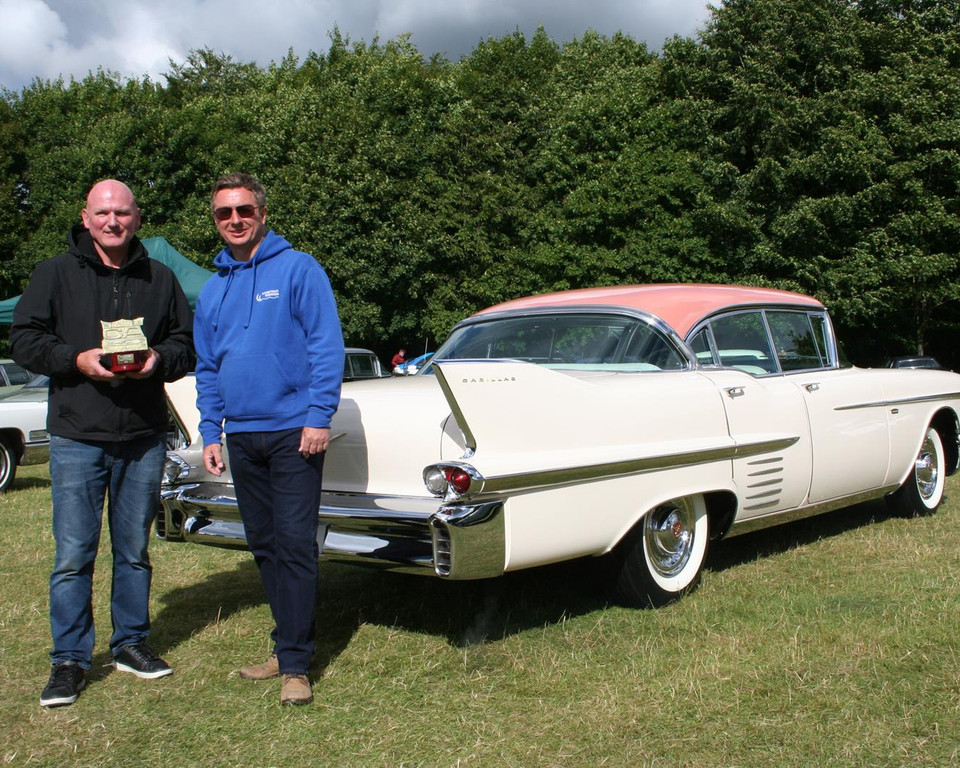 Heat 3 @ Stars & Stripes, Tatton Park - 2-3 July - 1958 Cadillac Sedan De Ville - Steve Sullivan
The winner of the third heat of the Kingstown Shipping Car of the Year competition may look familiar to some, as it has swept the board in terms of trophies and accolades up and down the country, most recently winning the Fins & Chrome class at the London Concours. Owner Steve Sullivan set himself the task of basically recreating what a brand-new 1958 Cadillac Sedan De Ville would be like in a Cadillac Showroom in the fall of 1957, when the car would have been fresh off the production line. The level of detail that Steve has gone into in 'creating' this car has many folks wondering if Cadillacs could actually have been this good when they were new, or if this is a whole new level of attention to detail, unseen in all but the highest levels of concours competition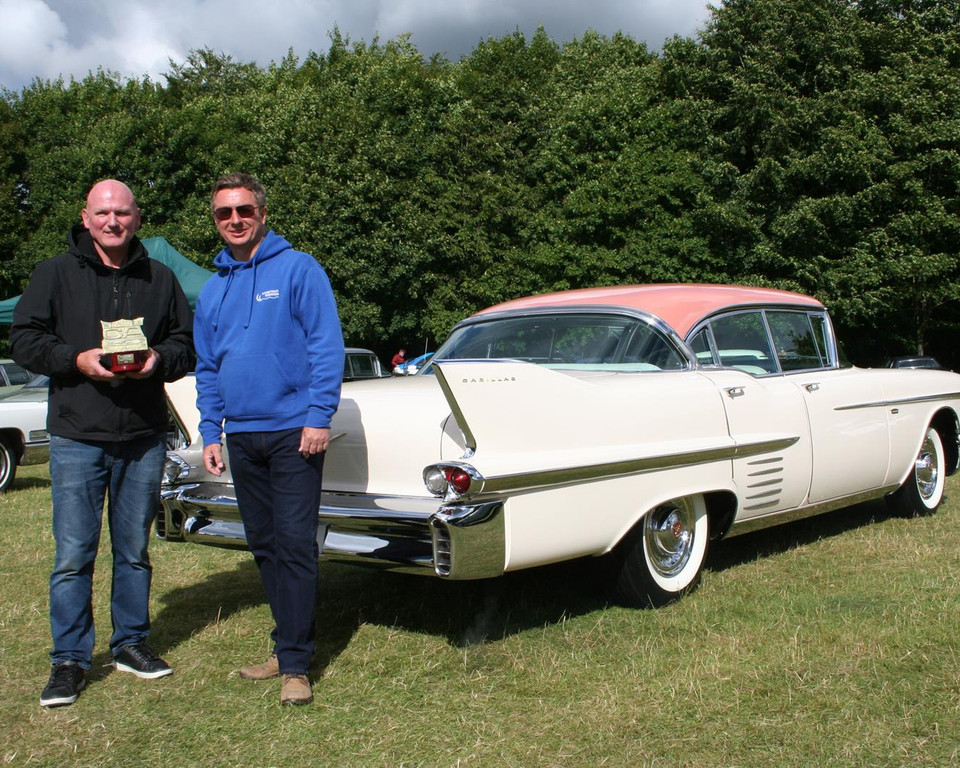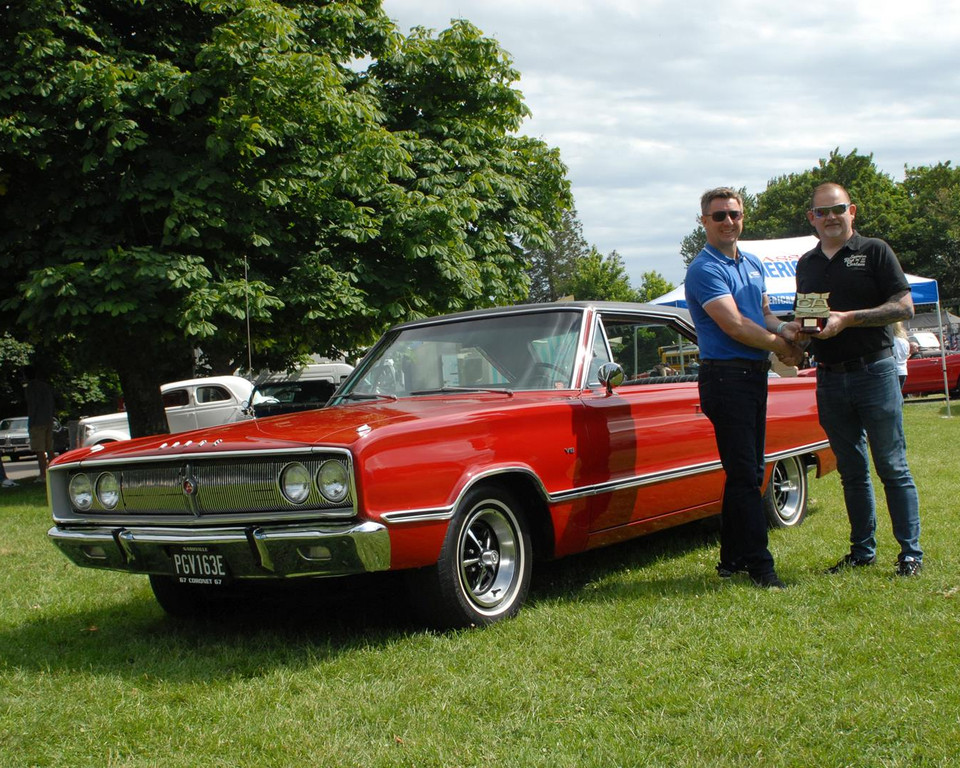 Heat 2 @ Beaulieu Hot Rod & Custom Day, Beaulieu - 19 June - 1970 Dodge Coronet 400 - Michael Nash
Classic American featured this Dodge in our December 2019 issue (CA344). Mike Nash is the proud owner of this stunning 1967 Dodge Coronet 440 that he acquired a few years ago and has found it to be every bit the gorgeous survivor car that it appears to be, with low mileage and ownership. Although it was originally fitted with a 318 motor, it now boasts a 1973 360 cu in V8, hooked up to a 727 Torqueflite transmission. The car hailed from Missouri originally and had been in the possession of an ex-Chrysler employee. With those stunning cantilever C-pillars, there's no missing this mid-century modern Mopar, which is a firm favourite in the Nash family.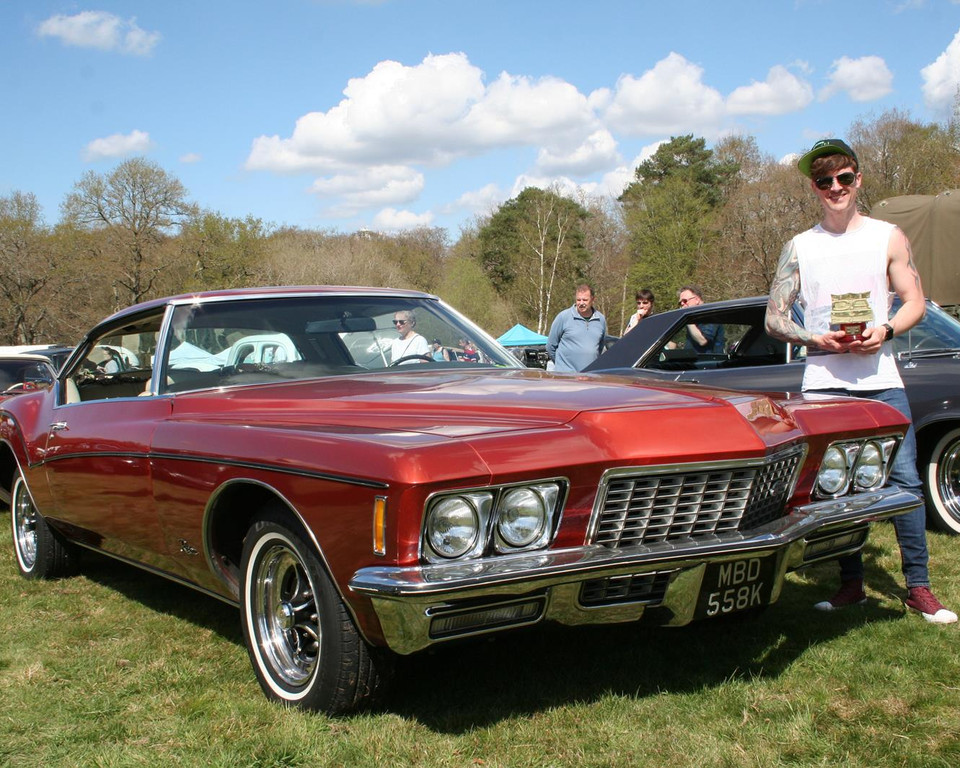 Heat 1 @ Wheels Day, Aldershot - 15 April - 1972 Buick Riviera - Adam Pearce
Our heat-winning car appeared in Classic American in February 2021 (issue 358) and was in fact the cover car. Owner Adam Pearce cut his American car-owning teeth with this bodacious Buick and hasn't looked back since. "I just love driving it!" he enthuses. As befits Buick's top of the tree model, it's dripping with all the bells and whistles Flint could shoe-horn into their flagship. Power comes from a four-barrel 455 cu in V8 and of course there's power-steering and -brakes, as well as air con. That dazzling Burnished Bronze paint sure looks a treat!